There are three main tasks you will need to do to manage your forum.
#1... Define permissions for what different groups of users are allowed to do.
#2... Write posts and Replies to the Forum
#3... Moderate the Posts of your Members. This includes Preview, Approve and Assign Posts that have been written by others.
Here, we will cover the first two tasks. Then in a later article, we will cover how to Moderate Member Posts.
#1... Define Permissions for Kunena Categories with Joomla User Groups
As a moderator and administrator of your forum, it is important to understand the different privileges given to different forum user groups which in turn are related to privileges granted to their associated Joomla User group.
The most common forum set up is to allow the public (all viewers) to read our forum, but only allow "registered users" to post comments, questions and start new topics. These new posts may or may not be reviewed by a Category Moderator. Category Moderators are appointed to the categories by a super user who is also a Global Moderator in that they can moderate posts in every category.
However, this is not the only possible option. You can have some categories that guests do not see... only registered users and moderators see them. You can have other categories that not even registered users see... only moderators see them. You can have categories that guests and registered users see, but that neither group can post to. To define these various levels of privileges, you need to have a clear understanding of both Joomla User Groups and Kunena Forum User groups – because Kunena Forum uses BOTH sets of groups. Let's look at the Joomla User groups first.
Joomla User Groups
In the Joomla Dashboard, click USERS, GROUPS. Joomla divides site visitors into 9 user groups. Joomla has six front end groups (or groups that only have access to the front end of the website). These are Public, Guest, Registered, Author, Editor and Publisher. Joomla also has three back end groups (or groups which also have access to various parts of the back end of the website). These are Manager, Administrator and Super User. As the Super Admin of the website, you can assign any registered user to any group you wish. Assigning a person to a group gives them specific privileges
Joomla Front End User Groups
Guests: These are viewers who have not registered on your website. They typically can view forums, but they do not have any privileges. Although it is possible to allow unregistered users to post questions and comments, it is generally not a good idea as spammers often use this weakness to attack and possibly shut down your website.
Registered Users: The Registered User Group comprises those users who have completed the registration process. A crucial part of this process is proving that they are human by requiring that they fill out a CAPTCHA form. Once a person registers, they can log in to the website, view all Content that is set as Registered Access as well as all Public Access Content. By default Registered Users are able to configure their own User Profile in both Joomla and Kunena,
Author: A Registered User can be added to the Author User Group by the Super User. The Author Group inherits the access permissions of the Registered User Group and in addition, its members are allowed to create new Content Items (or Articles) in the Front-end of the web site. This group submits new content - but they cannot directly publish any content. When content is submitted by an Author level user, they receive the message, "Thanks for your submission. Your submission will now be reviewed before being posted to the site." They can edit only their own articles but only after that article has been published and is visible.
Editor: A Registered User can be added to the Editor User Group by the Super User. The Editor User Group inherits the access permissions of the Author User Group and, in addition, its members are allowed to edit all published Content Items for the Front-end of the website, and to review and edit (where appropriate) any new Content Item that has yet to be published. Still, Editors cannot, publish any articles, not even their own.
Publisher: A Registered User can be added to the Publisher User Group by the Super User. The Publisher User Group inherits the access permissions of the Editor User Group, and in addition, its members are allowed to publish new Content Items to the Front-end of the website.
Three Joomla Back End Groups
Manager: Managers are the same as Publishers, but with Backend access, just like Administrators and Super Users. But their access is limited to the content management areas of the back end. They can access the Article Manager to edit any content, access the Category Manager add, delete and edit Categories, access the Media Manager to add or delete images, access the Featured Articles Manager to edit which articles appear on the HOME page and access the Menu Manager to create new menu items. But they cannot access the User Manager, Extensions, Modules or Plugins.
Administrator: This group allows access to most administration functions. An Administrator has all the privileges on the back end of a Manager, but they also have access to install/delete components, modules and plug ins. They also have User Manager access. What Administrators cannot do is change, edit or install Site Templates or make any changes to the sites Global configuration options. When an Administrator accesses the User Manager list, they will see all users at their access level or below. In other words, they can modify any user EXCEPT a Super Administrator. Also, they cannot create additional Super Users, only a Super User can do that.
Super User: This group allows access to all administration functions. Only another Super User can create or edit a Super User account. Full access to ALL AREAS is given to Super Users.
Three Places to Define Kunena User Groups & Forum Privileges
One of the best parts of Kunena Forums is that you can have different sets of privileges for each different category. But this flexibility can cause confusion for beginning forum administrators. We will therefore review the three ways user privileges can be defined. Kunena Forum Privileges (which are also called permissions and/or access) can be set globally for the entire forum, which includes all categories. Or they can be defined for just a single category. In addition, they can be defined by any given user. Thus, there are Global Privileges, Category Privileges and User Privileges.
Kunena Global Privileges
To set Global Privileges, go to Components, Kunena Forum, Configuration, Security Tab: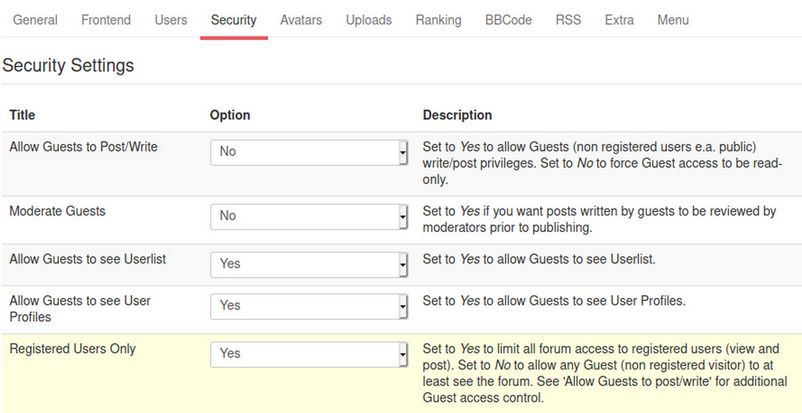 Allow Guests to Post/Write?
Permitting Guests to post/write is generally not wise as it can lead to spamming. Thus most forums set Allow Guests to Post to NO. This means that ONLY REGISTERED USERS will be allowed to write new topics and post questions or comments to existing topics.
Registered Users Only?
If Registered Users Only is set to yes, then Guests will nor even be allowed to view any forum categories. Therefore, if you want Guests to be able to at least read or view your Forum, you must set Registered Users Only to NO.
Kunena Category Privileges
Kunena uses the Joomla user groups such as Registered User, Author, Editor, Publisher, Administrator and Super User to define different levels of access to different Kunena Categories. To set Category Privileges, go to Components, Kunena Forum, Categories and click on a Category. Then click on the CATEGORY PERMISSIONS tab:

Access Control Type: Should you use Access Level or User Groups?
There are two different ways to set Category Privileges for a given category. The simplest way is with Access Levels (such as is shown above). Access Levels allow for only five group levels – public, guest, super user, registered and special. Click on the User Groups option and you will see more groups to choose from. In fact, the whole screen changes if you click on User Group.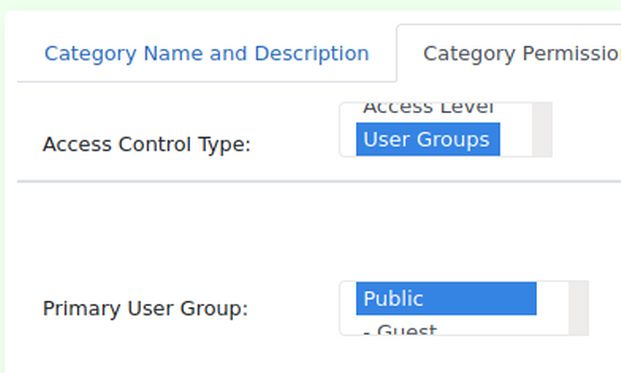 A major benefit of using the User Group option is you have access to the "Manager" option – which we will use below to match up with the Kunena "Moderator" option. In other words, you can assign a person to be a Manager of your website and a Moderator of you forum and they will have access to all of the tools they need to properly perform their moderator role.
Assign a Moderator to a category with the Category Manager
The last tab in the Category Manager is Moderation settings. Kunena forum allows every category to have a different moderator. If there are no moderators assigned to a category, then the super user for the website becomes the moderator for all categories on the forum.
Kunena User Privileges
The third way is to set individual privileges for a selected user. To set User Privileges, go to Components, Kunena, Users. Notice that there is no "New user" button. This is because all Kunena Users first have to register through the Joomla User registration process. They are also assigned to Joomla User groups by the Joomla Super User. They are then automatically added to the Kunena User group.
Kunena User Group Types and Assignment
Kunena User Manager is only used to place Users in specific Forum Roles. Select a User and click EDIT. Then click the Moderation Tab: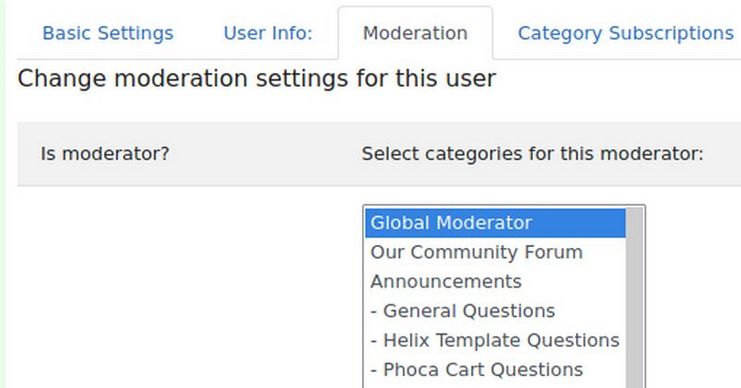 Global versus Category Moderators
Here a moderator can be defined as a Global Moderator for all topics or a specific moderator for a specific category in the forum. Global Moderators, like Super Users, have access to all categories. Category Moderators only have access to a pre-defined category. You must first create a category before you can assign a category moderator to it. A member can be assigned as a moderator to more than one category by holding down the Control Key as you click on the categories you want to assign the member to.
Category Manager LOCKED Setting
Click on the Category Manager, Category Settings tab to see the Locked function. If the LOCKED function is set for NO, then all registered users can post to this specific forum. If it is set to YES, then only Kunena Moderators and Administrators can post topics to this category. Viewers other than moderators can read this category, but can not post to it.
Category Manager Review Posts Setting
Go to Categories and click on a Category to edit it. Then click on Category Settings. If you want a moderator or the super user to review posts and questions before they are posted on the forum, set this to yes. If set for no, then all questions are immediately posted to the forum. If review posts is set to yes, a registered user then submits a new topic (in other words a question) to a specific category. However, the question is not publicly displayed in the category, until it is approved by one of the Category Moderators. After the moderator approves the new topic, the moderator has the option of leaving the topic in the existing category, which is unlocked, in which case any registered user may respond to the question. OR the moderator can move the topic to a locked category in which case only moderators and administrators can post replies to the question.
Recommended Category Settings
To keep it simple, set Global Privileges to No for Guest posting. Set all of your categories to Public for viewing, registered for posting and YES to moderation. This will allow you as the Super User to screen all posts before they are viewed. It will also allow you to keep your forum organized by moving posts to their most appropriate category. Finally, if you need help, assign either Category moderators to help you with a specific category or assign global moderators who can help review and approve all posts.
Privileges Configurations for Special Cases
Below are suggested solutions for two common forum arrangements:
Case #1: Restrict a Category so only moderators can see and post (Moderator Help Forum Category)
A Moderator Help Forum allows you to have a category that is only viewed by moderators and administrators so you can discuss issues relate solely to the management of your forum. To create this category, go the Kunena Category Manager and click on NEW. First, with the Joomla User Manager, assign all moderators a specific Joomla User Type – such as Managers. Second, with Kunena Category Manager, restrict viewer access to the site to that selected User Type. Third, set the category to locked so that only moderators and administrators of that category have access to post on it. Fourth, with Kunena User Manager, make sure all moderators have access to moderate that category.
Case #2: Allow All to See a Category, but only Moderators Post to that category
This is for categories you want the public to be able to view, but to avoid confusion, you only want moderators and administrators to post to this category. The category is set for LOCKED = YES, but viewer access is set for EVERYBODY.
Assign Ranks to Users
Go to Kunena Forum, Rank Manager. Kunena comes with several "ranks" by default. Members start out as New Members but can gain more status as Junior Members after making 20 posts.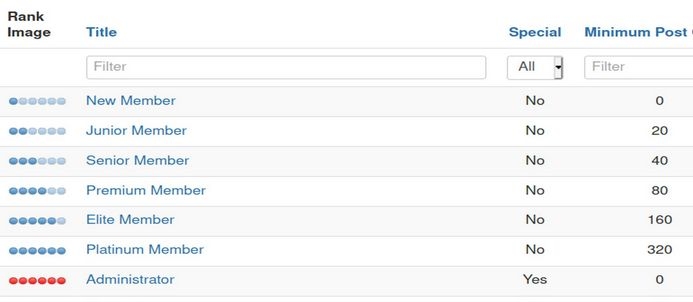 Reduce the number of posts required to help members rise through the ranks more quickly. You can even define different ranks such as Apprentice and Master.
What's Next?
In the next article, we will review how to make and moderate posts to Kunena Forum